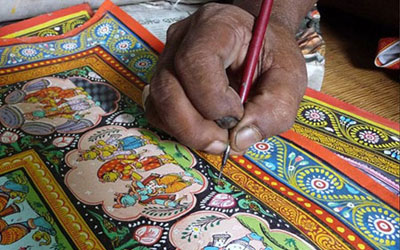 Odisha (Orissa) boasts of a long and rich cultural heritage. Due to the reigns of many different rulers in the past, the culture, arts and crafts of the state underwent many changes, imitations, assimilations and new creations, from time to time. The artistic skill of the Orissan artists is unsurpassable in the world. The discovery that traditional artists still live and work throughout Odisha (Orissa), producing various objects in many media, is an exciting part of any visit to the state. Odissi dance and music has lured many to this sacred land of Lord Jagannath. Like other aspects of the culture, the Odissi music is charming, colurful, variegated encompassing various types. In addition to the world renowned Odissi and Chhau dance forms, Odisha (Orissa) boasts of a number of folk performances too.
FINE ARTS
Painting, Etching
PERFORMING ARTS
Odissi Music, Odissi Dance, Gotipua Dance, Animal Mask, Baunsa Rani, Chaiti Ghoda, Changu Nata, Chhau, Dalkhai, Danda Nata, Dasakathia, Dhanu Jatra, Ghanta Patua, Ghoomra, Jhoomar, Karma, Kathinacha, Kedu, Kela Keluni, Krishna Leela, Medha Nacha, Naga Dance, Paika Nrutya, Pala, Patua Jatra, Puppet Dance, Rama Leela, Ranappa, Samprada.
HANDICRAFTS
Major Hadicrafts
Applique Work, Brass & Bell Metal, Silver Filigree, Stone Carving.
Minor Hadicrafts
Horn Work, Lacquer, Papier Mache, Tribal Combs, Wood Carving
HANDLOOMS
Odissi Handlooms, Tribal Handlooms